KAMS Student Returns to THS
Senior, Tanu Gebhardt recently returned to THS for his last semester in high school. For the last year and a half Gebhardt has been a part of the KAMS program at Fort Hayes State University.
KAMS is an early admissions program that allows Juniors to take college classes for college and high school credit. Meaning, when you graduate high school, you would also be graduating college with an associate's degree. Gebhardt chose to join KAMS because it paid for his college tuition as well as many research opportunities. One of Gebhardt's favorite experiences from his time in KAMS was studying and working on electric vehicles.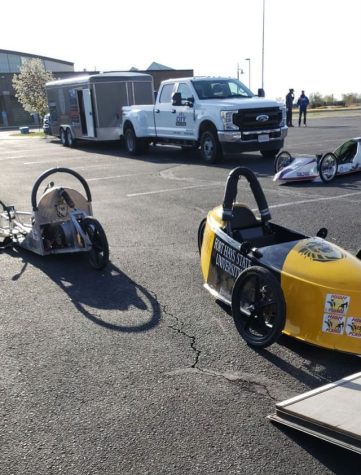 "I was able to pick a fun research where we studied a little bit of how we could improve electric vehicles and we began designing and fabricating another one of our own. We had two from many previous year students, and one was old and needed to be replaced."
While Gebhardt enjoyed his time in the KAMS program, he decided to come back to THS because the program wasn't useful to him anymore.
"I recommend if you are interested in joining the program, that you have a degree chosen, and communicate it well with the advisors. My mistake when joining was not having a big enough goal or degree in mind to utilize KAMS with."
While THS doesn't offer students the opportunity to work on electric cars for college credit, Gebhardt is still looking forward to his last semester at THS.
"This semester I'm looking forward to graduating and starting my "adult life" without high school to worry about this time around."