THS thespians take us to church
THS production of sister act showcases diversity
Afros, bell bottoms, 70's disco galore and nuns can only mean one thing- Sister Act.
Described by Theatre Director Gloria Goodwin on opening night Sister Act is "a group of fierce women coming together to change the world." 
Performed by the Turner High School Theatre, Sister Act takes place in 1977-78 Philadelphia starring junior Sydney Marshall as the funky and fierce Deloris Van Cartier, of the Van Cartier's. Eddie or otherwise known as Sweaty Eddie was brought to life by junior Sean Whitney. Among the cast was senior Juliet Her as the strict and surprisingly sweet Mother Superior and junior Rachael Everitt as the lovable if slightly gullible Sister Mary Robert.
"All of us are real chatterboxes during rehearsals, but when it comes to show time, we get our game face on," Her said.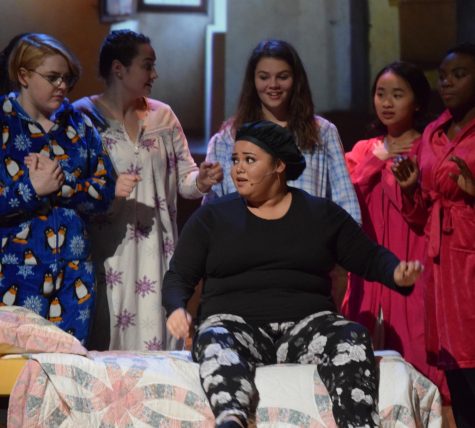 With a revamped ticket sale and the new cast-grams, it's safe to say that the musical experience didn't just start when Marshall came on stage. A little after six o'clock on opening night crowds started lining up to buy and reserve seats and chat about the show. Many alumni came to support the theatre department and their younger friends and family.Those who were part of the thespians were given a keychain of a golden ticket to get free admission.
"[The online ticket sales] have solved a lot of problems between families with a little bit of bad feelings over seats," Goodwin said.
"I plan to be a tattoo artist after graduation, and I had sister act on the mind so I just kinda went off what I felt about the show." Junior Eryn Chase said.Chase also performed as Sister Mary Martin-of-Tours.
Along with racial conscious casting, Sister Act featured numerous solos that blew us all away. The one of the most interactive solo was performed by Whitney and included three costume changes.
"That costume change was probably the roughest thing I've done," he said. "I had Curtis's song and the end of the bar scene [to get my costumes ready]. The choreograph that I did didn't involve a coat so that was hard to incorporate a bit." 
With decidedly less costume changes into a robe and leading us into Act II was a heart-grabbing performance of Haven't Got a Prayer by Her.
"It's very nerve wracking at first because you don't have anybody to back you up, if you mess up then you mess up and everyone knows it. It's also just really inspiring and being able to push through the anxiety is a great feeling." 
Like Act I, Act II featured many stunning performances especially by Marshall and Everitt. With the hilarious and possible creepy way that the nuns woke up Deloris in Bless Our Show, the growing friendship was a perfect lead in to a few tears being shed in the audience as Deloris was packing to leave.
Throughout the musical, Marshall has shown again and again that she captures Deloris's personality perfectly, and this is just further proven with Fabulous, Baby! (Reprise). Marshall was truly captivating to watch as Deloris struggled through her own character arc and eventually to accepting whatever punishment that Curtis, senior Quincey Murray, had decided to give her for running.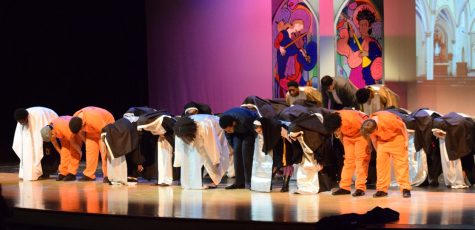 "When Curtis broke into the church, all of the nuns were forced to scatter.There was so much adrenaline fueling us as we ran across the stage. It was only when he held Deloris at gunpoint that we were able to come down from our high," Everitt said.
Of course, Curtis wasn't given a chance before Mary Roberts stepped in front of Deloris with the heartfelt and heart wrenching symbol for 'if you want to shoot her, you have to shoot me too' which leads the rest of the sisters to do the same.
"As we each stepped up to defend her, we couldn't help but get misty-eyed.Even though the characters weren't real, I could truly feel their bond.It was an incredibly emotional moment." 
The end of the musical showed the long-awaited Pope coming to watch the show. Hilariously, the Pope was played by a different administrator each night.