A Conversation with Conversation Café
Podcasts cover all kinds of topics, there are true crime, language learning, and some are even political. Podcasts bring people together whether they're crime junkies or if they can bond over similar issues being talked about in a podcast. For 2 seniors at THS, making a podcast has brought them together.
Julianna Pierce and Kaylee Madrid created and run a podcast called "Conversation Café". Madrid began the podcast in the spring of 2020 after being inspired by other teen-run podcasts.
"One day I was listening to another podcast called Teenager Therapy." Madrid says, "I looked at their podcast, and I thought to myself, maybe I can do that too."
Once Madrid had the idea, she had to put it into action. Beginning a podcast on your own is a large feat, as Madrid had to record, produce, edit, create a logo, and plan out each episode on her own. After a few episodes, Madrid took a break, but when she came back, it was with a partner. This made the production even more enjoyable.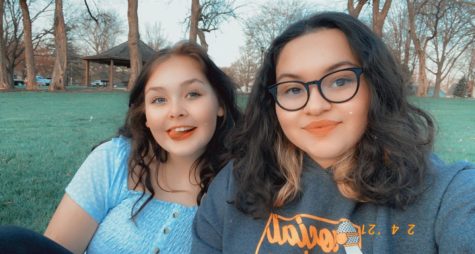 "[The process] has been super fun." Pierce says, "We both had separate jobs for the podcast. Kaylee did the editing and promoting for the podcast. I would come up with the logo and podcast topics and our theme introduction. We both collaborated on everything together. We also had different types of episodes: ones where we were together hanging out, ones where we would film at our separate houses but with each other and we had solo episodes, so we had a lot of diversity in our podcast."
Some podcasts have strict subject matter, such as true crime and conspiracy theory podcasts. Madrid and Pierce have a different kind of subject matter, in the way that it is always changing.
"It isn't about one specific thing," Madrid says, "it is more about anything we want to talk about for the episode."
Their podcast follows things that they like to do, so some may be more fun, like playing uno, while others may be more serious like talking about the current issues at our school.
"It's a mixture of things," Pierce says, "sometimes it was a fun episode where we could hang out and film funny episodes like us playing Uno or little vlogs. We started getting more into the process of setting our topics and covering things like remote and in-person school, mental health, and issues we were going through. It's something different every time."
Running a podcast is something that can help change how you spend your time and help develop skills that will help you further on in life.
"Having and maintaining a podcast takes a lot of time," Madrid says, "so it has helped me with my time management skills, which is extremely beneficial!"
Having a podcast requires much more than people may initially think. Madrid and Pierce not only have to film and edit episodes, but they have to promote their podcast on social media and get the word out to listeners. In a way, having a podcast is helping them develop skills used in businesses and marketing.
"I have to edit episodes, create promotional content to post online." Madrid says,"I think that it has helped me develop my skills in the business and marketing area."
Podcasts not only help develop skills that can be used in the workplace or in a professional setting, but they can also bring awareness to what is going on in the world.
"It made me realize a lot more about me and major world issues." Pierce says, "It's also helped me become more informed in the professional world of business."
Making a podcast is hard work, but both Madrid and Pierce can agree that it is very fun and can help you in a multitude of ways.
You can listen to the conversation café podcast on Spotify, Anchor, Apple Podcast, Overcast, Breaker, Castbox, Pocket Cast, RadioPublic, and Stitcher.